Finally got my hands on the Specialized Chunder SX 2.3. I really wanted to test this tire for a long time, but it turned out to be quite hard to get hold on. Well I finally managed that, so why all the buzz?

Well the Chunder SX 2.3 is a near replica of (in terms of thread pattern) of my all-time favorite AM tire; the Maxxis High-Roller 2.3. But the Chunder SX adds a few things into the mix; First of; its HUGE, the 2.3" is as big as a Maxxis 2.5". Secondly, the knob-hight is about 20% higher than that of the Maxxis tire - that could mean more grip in the corners at high speeds and on the descends. The side pattern is huge and ultra aggressive, and the center knobs are ramped up to give as little rolling resistance as possible - just like the High Roller. Everything has a price tho', this tire is a heavy weight at 1060 gram, but thats for the "indestructible"-dual-ply version im testing.


I have high expectations for the Chunder SX, and I hope to drag this tire through AM, DH, FR, in several different countries during this summer, so watch this space, as I conclude it with a review here on my blog.
(click to enlarge)
Shameless copy of one of the best tires ever made:
(click to enlarge)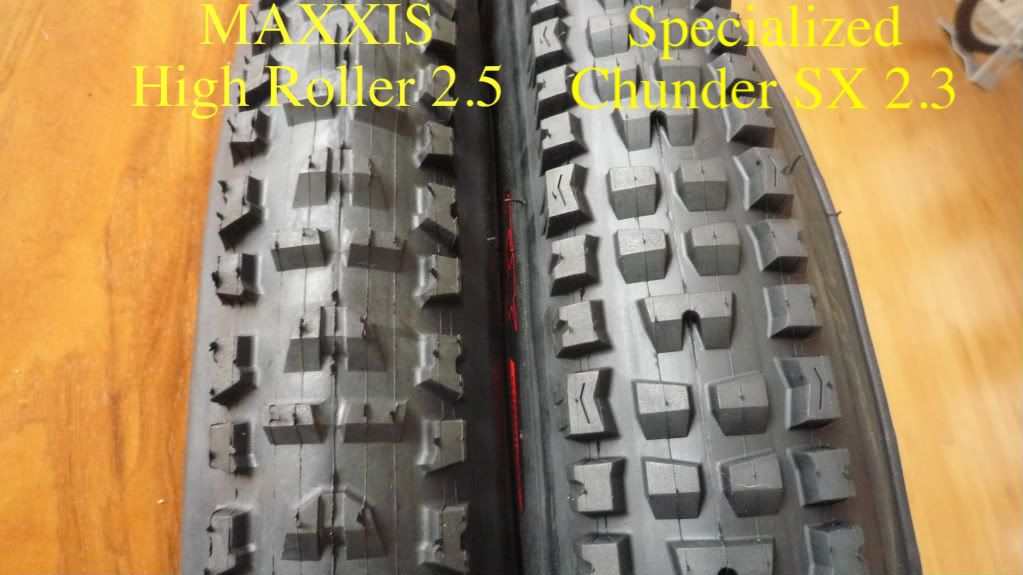 But I want it anyway!